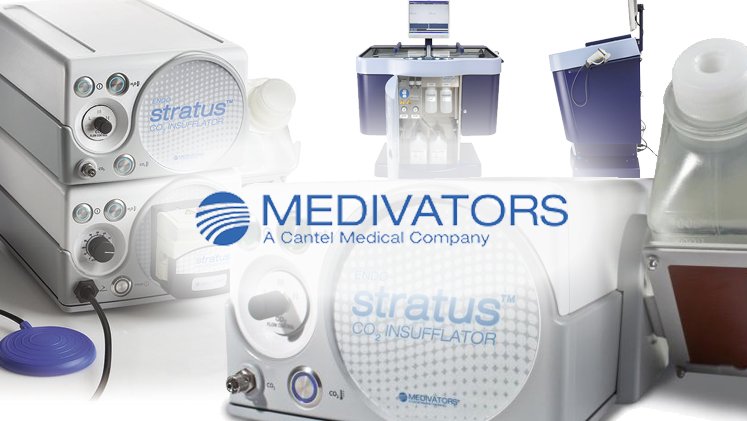 Medivators (A Cantel Medical Company) (#1876)
We are a leader in the design, development, manufacture and sale of medical devices critical to endoscopy and infection prevention and control.  Our Endoscopy segment provides a full circle of infection prevention solutions through a comprehensive offering of MEDIVATORS® branded products and services in two critical areas – endoscope reprocessing and endoscopy procedure products.  Our endoscope reprocessing products include a full range of endoscope reprocessing systems, high-level disinfectants and sterilants, detergents, leak testing and manual cleaning products, storage cabinets, endoscope process tracking and related consumables, accessories and supplies.
Our endoscopy procedure products include CO2 and water irrigation pumps and disposable procedure kits, sterile irrigation tubing and single-use valves designed to eliminate the challenges associated with proper cleaning and high-level disinfection of numerous reusable components used in GI endoscopy procedures.  We design, develop and manufacture most of our endoscopy products.
---
CONTRACT SUMMARY
Products:
Medivators Reprocessing Systems, Veriscan Endoscope Leak Testing and Fluid Detection Device
Price Protection:
Full term of agreement
Shipping Terms:
FOB origin; freight prepaid & added
Payment Terms:
Net 30 days
---
To view pricing you must be logged in as a MAGNET GROUP Facility Member.
Not yet a MAGNET GROUP Facility Member? Not sure?
Complete and submit a simple, no obligation Participation Agreement (PA) Form.
Do you need MAGNET GROUP GPO Designation Form?
Download Designation Form (PDF)