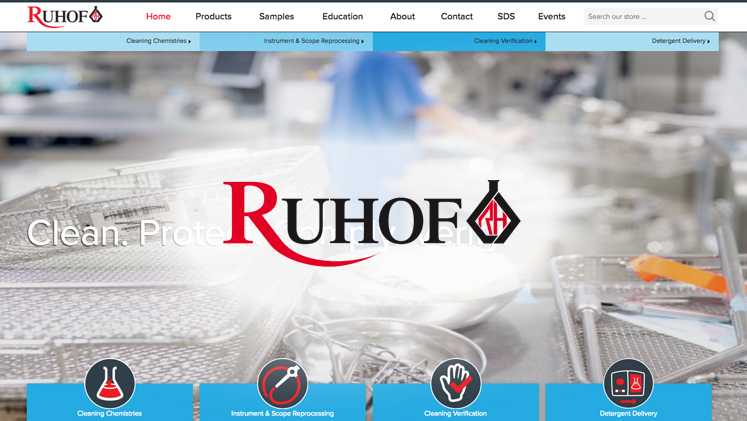 Ruhof Corporation, The (#9206)
As the pioneer in instrument and scope care, Ruhof introduced the first enzymatic detergent to the market in 1976. Since then we have dedicated ourselves to research, development and manufacturing state-of-the-art products to ensure the complete cleaning and reprocessing of all surgical instruments and scopes. Addressing the ever-increasing concern of cross contamination in hospitals, Ruhof's research and development department revolutionized the cleaning industry with our new Advanced Proteolitic Action enzymatic detergents, cleaning brushes and foam sprays. This new product line provides the most highly advanced enzymatic solutions that dramatically reduce cross contamination while lowering repair and replacement costs.
---
CONTRACT SUMMARY
AGREEMENT #9206
08/01/01 – 09/30/19
www.ruhof.com
Products:
Enzymatic Detergent & Instrument Care Products
Price Protection:
Full term of agreement
Shipping Terms:
Orders <10 cases @ FOB dest; frt ppa orders >10 cases @ FOB dest; frt pp
Payment Terms:
Net 30 days
---
To view pricing you must be logged in as a MAGNET GROUP Facility Member.
Not yet a MAGNET GROUP Facility Member? Not sure?
Complete and submit a simple, no obligation Participation Agreement (PA) Form.
Do you need MAGNET GROUP GPO Designation Form?
Download Designation Form (PDF)